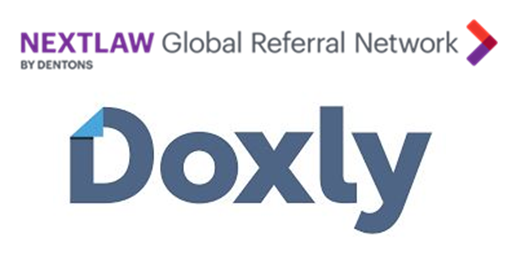 Nextlaw Ventures Portfolio Company Doxly today announced its partnership with the Nextlaw Global Referral Network.
Doxly's launch within the Referral Network is part of the Referral Network's strategic commitment to provide a competitive advantage and value to its members, and is a great follow up to the launch of other Nextlaw Ventures Portfolio Companies, FileFacets and Hire An Esquire, to Referral Network members.
Doxly is a secure portal for end-to-end legal transactions and the Nextlaw Global Referral Network, founded by Dentons in 2016, is now the largest legal network in the world, with over 500 members spanning more than 190 countries and almost 30,000 lawyers.
The Network, working closely with its sister companies, Nextlaw Labs and Nextlaw Ventures, curates and identifies cutting edge technologies of value for small to medium sized law firms. Already in use by the world's largest law firm, Doxly's secure legal transaction management system brings control and transparency to complicated legal workflows by combining centralized checklists, collaboration tools and task management options to help align attorney and client interests.
Read the full press release here.