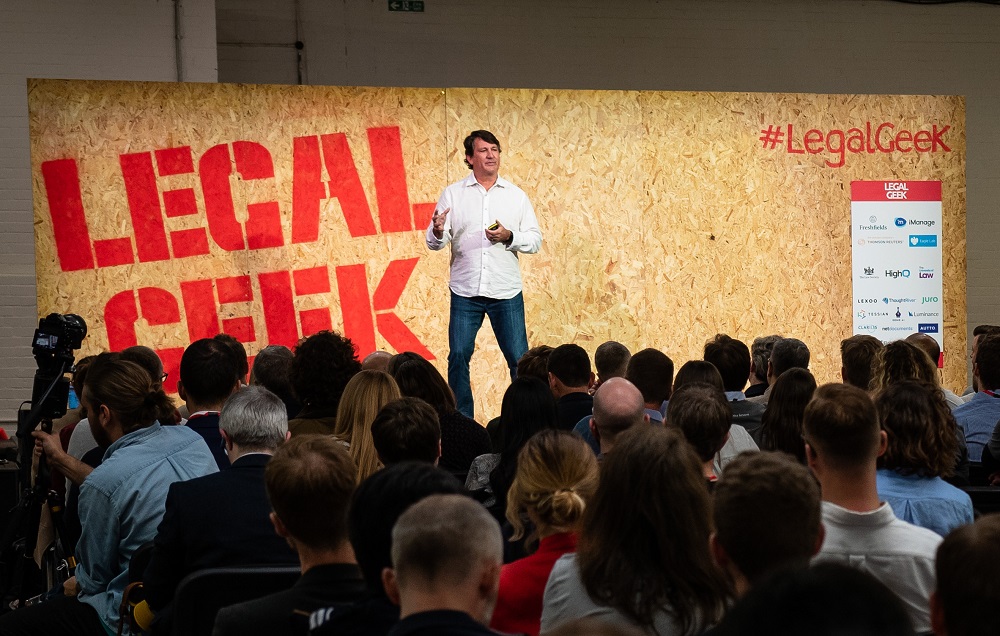 Author: Julien Lasala
Legal Geek 2019 welcomed over 2,000 participants from 40+ countries, among them 100+ speakers from around the world and startups spread across two different floors.
This year marks Nextlaw Labs and Nextlaw Ventures' third Legal Geek conference, and the atmosphere was markedly different. The innovation train has departed for in-house legal departments, law firms and alternative service providers. Progress is no longer marked by simply getting on board, but ensuring you're in the right car and riding with the right conductor. While understanding the market, trends and technology is a great place to start, more effort is required to succeed, by delivering concrete benefit for their customers. Yes, customers, not clients– the necessary mindset shift from client to customer was a recurring conference theme of customer experience, centered on delivery, service models and empathy.
What makes Legal Geek so valuable, beyond the strong traction and reputation built over three years, is its subtle and smart steering of the collective mind towards the greater good. The opening session of the conference was focused on social impact. Rob Martineau—the co-founder of Tribe Freedom Foundation, which fights modern day slavery—shared his inspiring story to kick off the day with a few tips:
Lesson 1: Start small
Lesson 2: Each person is a ripple and out of ripples come waves
Lesson 3: Try to pass the baton
Legal tech veteran, Mark Cohen, then framed the legal market's evolution. In short, it takes a village to change the law and its industry; it takes tremendous time and effort for the first ripples to become waves of disruption. Legal tech has undeniably become a profession within an industry; in other words, the waves are now big enough for true impact.
Digital transformation was also at the heart of many presentations, as a business strategy and institutional imperative. Mari Saki, professor at the University of Oxford, and Susan Acland-Hood, CEO of the Ministry of Justice of the UK, both emphasized that tech and AI can and should be doing more in online courts, court data, and related areas. Legal tech should be used to eliminate inefficiencies, generate a feedback loop to provide customers with what they really need, and further open access to justice.
Startups were also in strong attendance, from AI-driven systems like Luminance, NetDocuments, and Kira to expert automation systems like Autto and Clarilis, as well as Nextlaw Ventures portfolio companies Clause and Libryo, the venue was bursting with ideas and opportunities. (Check out Legal Geek's comprehensive startup map here).
The last session of the day was dedicated to investors providing excellent advice to navigate the waters of venture financing. Dan Jansen, CEO of Nextlaw Ventures and Nextlaw Labs, kicked off the session and offered some valuable perspective. First: demoing your product is not the best way pitch an investor. Investors would rather understand to whom you intend to sell, and how. The market is moving quickly, and in an early consolidation phase, so your position and tactics within this cycle are key to communicate. You should be able to describe how you will handle change management in your company and your clients' organizations. Finally, develop a strong business plan with underlying KPIs to help you manage your business and measure progress.
So how will a traditional industry survive in times of disruption? Simon Davis, the President of the Law Society, put it best: "If you behave like a robot, you should be replaced by a robot". What makes us human is our emotional impact and interactions with each other, mutual support and trust building.
Nextlaw attendees were exhausted and invigorated at the end of the day, and more knowledgeable, energized and inspired to move forward with reinventing the business of law.